Who we are
Glasgow Goalball has players that are visually impaired and sighted that support each other and are able to play on an equal playing field with the use of eye shades. We have players playing at novice, intermediate,  elite and Great Britain level. We all take responsibility for the running of the club, attending competitions and promoting Goalball.  When we compete in competitions we travel together as a team and support each other to get the best out of everyone.
We love welcoming new players, having a laugh and arranging social events. This allows us to share experiences and learn from each other to help us live independently.
At Glasgow Goalball our doors are always open for people to come and try, its a great sport as it can be played on the first session with no skill but these skills can be progressed making the game very tactful and as fast and furious as you like. All equipment is provided for starting off with but if you enjoy it and want to get competitive then its best to get your own padding for comfort.
We offer a meet and greet service at Glasgow central so get in touch and come and have a go! Players typically meet up a central station before boarding the train to Crookston and Rosshall Academy where the club is based.
Glasgow Goalball Tournament History
Over the past 3 seasons Glasgow Goalball has competed in a number of tournaments and have always had a friendly welcome. These tournaments have been held in Scarbourgh, York, Newcastle and Sheffield.  These have been attended by a number of members and all enjoyed the experiences of playing against other teams from across England.
Transforming Lives
Introductory video to Goalball, made by Goalball UK
News
2019 Merry Christmas Audio Clip
Mark Borthwick, Treasurer for Glasgow Goalball, Successfully Applies For Funding September 2019
A warm thank you to BOOST, Building On Overlooked Sporting Talent, Charitable Trust for providing us with funding to cover our costs and continue our goalball training. We very much appreciate your recognition and support.

https://www.boostct.org/
Glasgow Goalball Team Member is Mentioned in the GoalBallTimes Issue 36
The Goalball UK newsletter for September 2019 has an article mentioning Glasgow Goalball member Paul Cunningham.

The article was titled "Impressive Off-Court Challenges Completed by Goalball UK Members". Paul helped "Vision of Adventure" raise some much needed funds by taking part in the Brighton to London bike ride on the 15th of September 2019.

Vision of Adventure are a charity based in the Lake District who do a fantastic job organising outdoor activities for visually impaired adults. Paul cycled over 56 miles to raise over twice his target. In total including gift aid he reached an amazing £657.

https://visionofadventure.org/

https://uk.virginmoneygiving.com/fundraiser-display/showROFundraiserPage?userUrl=PaulCunningham22&pageUrl=1
Annual General Meeting 19th of July 2019
Our annual general meeting with Alan, Alex, Andrea, Graeme, and Lorna was held at the Crystal Palace in Glasgow City Centre.

We discussed social media use and progress to date, our current fortnightly training schedule, club finances, work with scouts groups, club promotion success particularly with; the club banner, Glasgow Life Activity Finder entry.

The cross training successes of Andrea and Paul with 'Vision of Adventure' - a non profit organisation enabling those with a visual impairment to pursue outdoor activities.

Goalball UK tournaments we attended were discussed along with upcoming coaching courses we may attend. A brief discussion of administration tasks concluded the latest insurance payment will be made soon, the risk assessment and first aid paperwork has been already been completed.

We concluded the meeting to order food and drinks then relaxed and joked for the remainder of the night. Good pizza, good laugh, and we'll all be back at training on Monday the 19th of August 2019.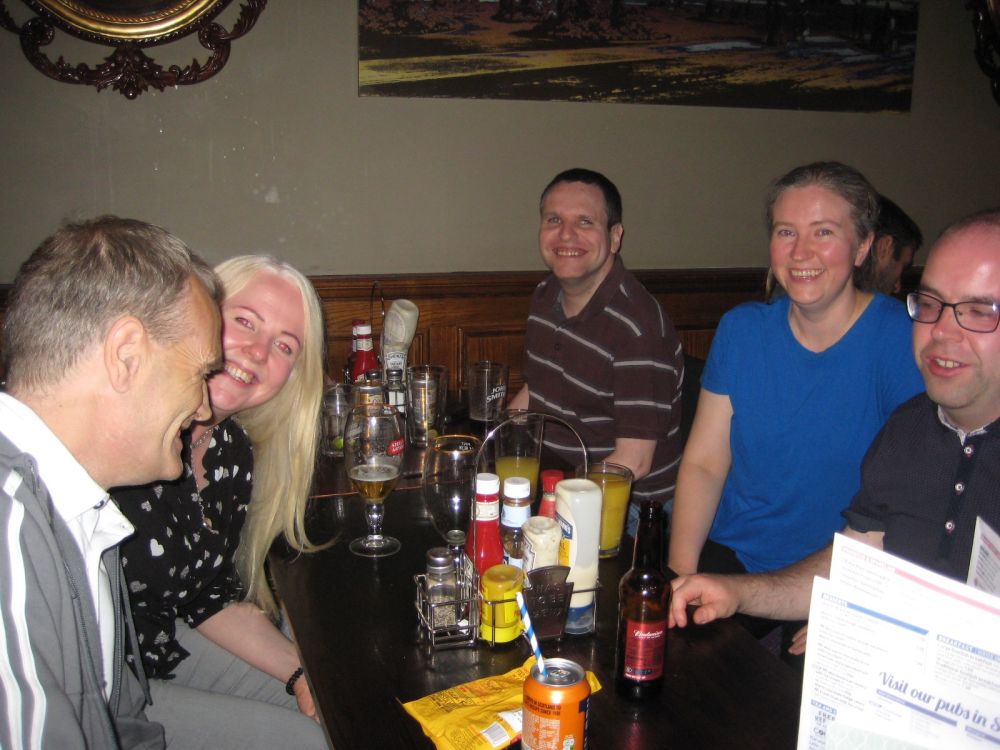 Andrea Wins the British Triathlon - Artic One Paratriathlon Festival 2019
On the 27th of May 2019 in Dorney outside Windsor, Glasgow Goalball's Andrea completed the Artic One Paratriathlon Festival 2019 British Championships with Vision of Adventure. Andrea took first place in a time of 1 hour 34 minutes and 6 seconds! A podium photo of her can be found on Vision of Adventure's Facebook page at:

https://www.facebook.com/visionofadventure/photos/a.211406719809766/293497744933996/?type=3&theater

Her official results are at:
https://www.resultsbase.net/results/certificate/2783741/individual
The North West Regional Tournament was held on Saturday the 6th of April 2019 at 10:00-16:00 Our Lady's Catholic College, Morecambe Road, Lancaster, LA1 2RX
The picture shows Frances and Mark on the left and, Andrea, Graeme, and Paul on the right. Hanging out in the hanging city in the Merchants 1688, 29 Castle Hill just below the infamous Lancaster Castle and a ten-minute walk from Lancaster Railway Station.

A really lovely time in Lancaster!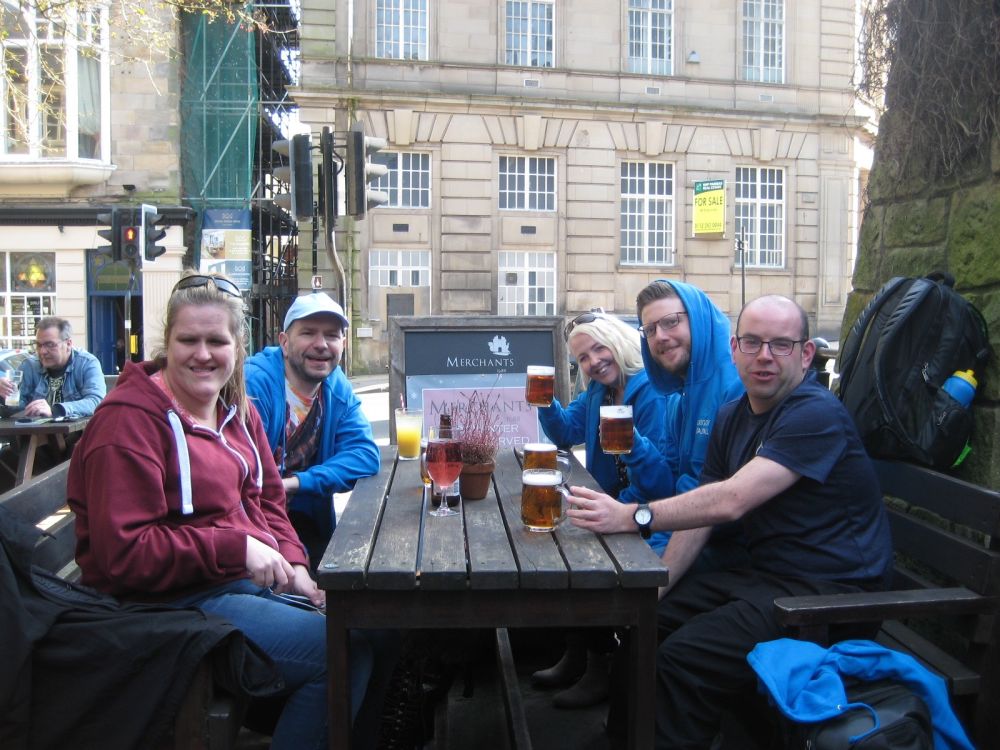 The North West Regional Tournament was held on Saturday the 6th of April 2019 at 10:00-16:00 Our Lady's Catholic College, Morecambe Road, Lancaster, LA1 2RX
This photo a split second later shows Andrea's ball in the back of the Lancashire Lions' net.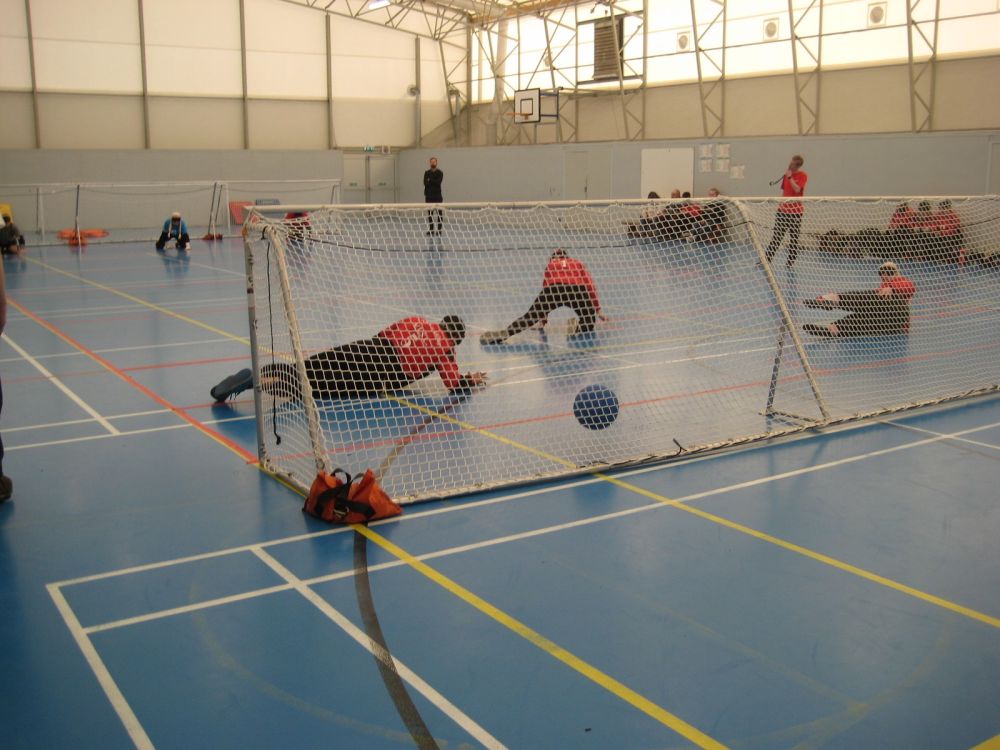 The North West Regional Tournament was held on Saturday the 6th of April 2019 at 10:00-16:00 Our Lady's Catholic College, Morecambe Road, Lancaster, LA1 2RX
One player asked to leave early meaning Merseyside were a player down for their last game. Glasgow had finished playing so Andrea volunteered to join Merseyside against Lancashire.

This photo capture's Andrea's shot on goal.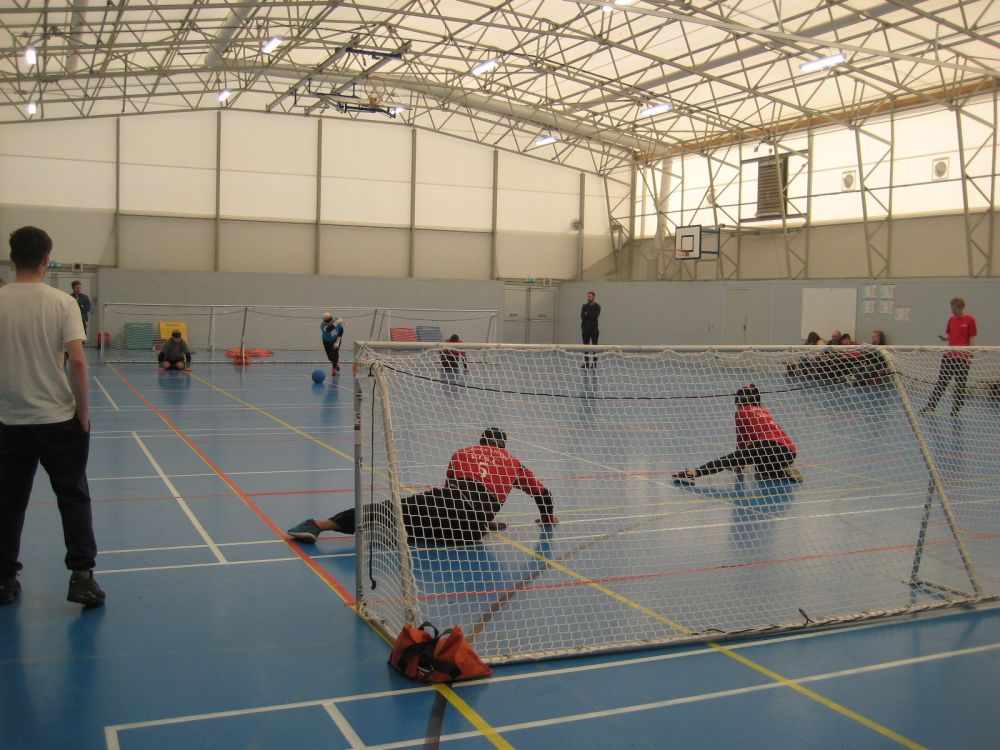 The North West Regional Tournament was held on Saturday the 6th of April 2019 at 10:00-16:00 Our Lady's Catholic College, Morecambe Road, Lancaster, LA1 2RX
Glasgow goalball arrived early in Lancaster for the North West Regional Tournament in April and gave a hand setting up the court. We were cheered on by Frances who had joined us for the day and possibly for the post tournament refreshment. We played Merseyside, Lancashire Lions A, Lancashire Lions B, and Blackburn in round robin format. We played some great goalball with intense moments throughout, and definitely required refreshment at one of Frances's favourite haunt's to recover on a very beautiful, sunny, afternoon.

The picture shows Paul taking a shot from centre with Mark and Graeme on each wing.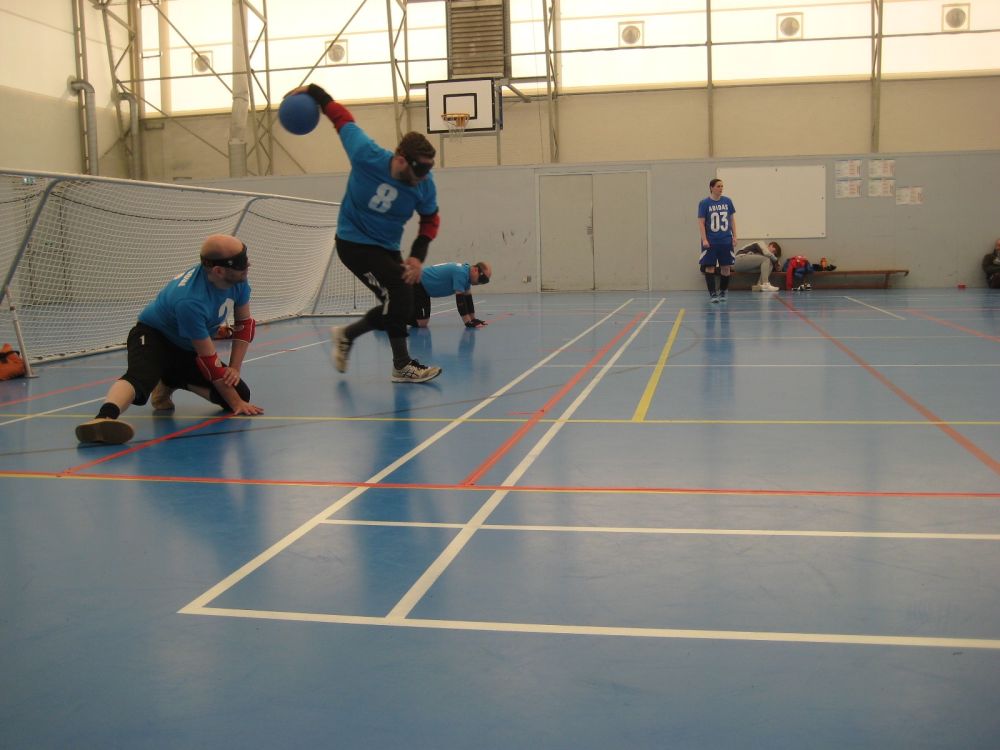 Regional Tournament held on Saturday the 9th of March 2019 at the English Institute of Sport, EIS, Coleridge Rd, Sheffield S9 5DA.
Glasgow Goalball arrived in Sheffield the Friday evening before Saturday's game. And as we like to catch a reasonably early train back we took the first game against West Yorkshire. We were a player down due to unexpected illness the that morning. West Yorkshire's Dean joined us to make up a team of three. A late arrival Josh also from West Yorkshire also joined us and we carried on with our honorary team mates against teams from Merseyside, Lancashire, Yorkshire, Kirklees, Scarborough, Derbyshire and Blackburn. Great energy and spirit from everyone.

Fun points to note: The Derbyshire Ducks lived up to their name or perhaps the verb duck. A stray ball from them against West Yorkshire caught the judges table and the electronic score boards were only expertly saved at the last second! The Ducks soared on to earn respective feathers in their caps by goal judging the West Yorkshire vs Lancashire Lions. There's a short video at: https://twitter.com/GoalballUK/status/1104349913108889600

The photo shows Dean, Graeme, Josh and Lorna in blue Glasgow Goalball kit. Graeme and Lorna had lent their sweat shirts to Dean and Josh for this team shot. A thoroughly smashing time in Sheffield!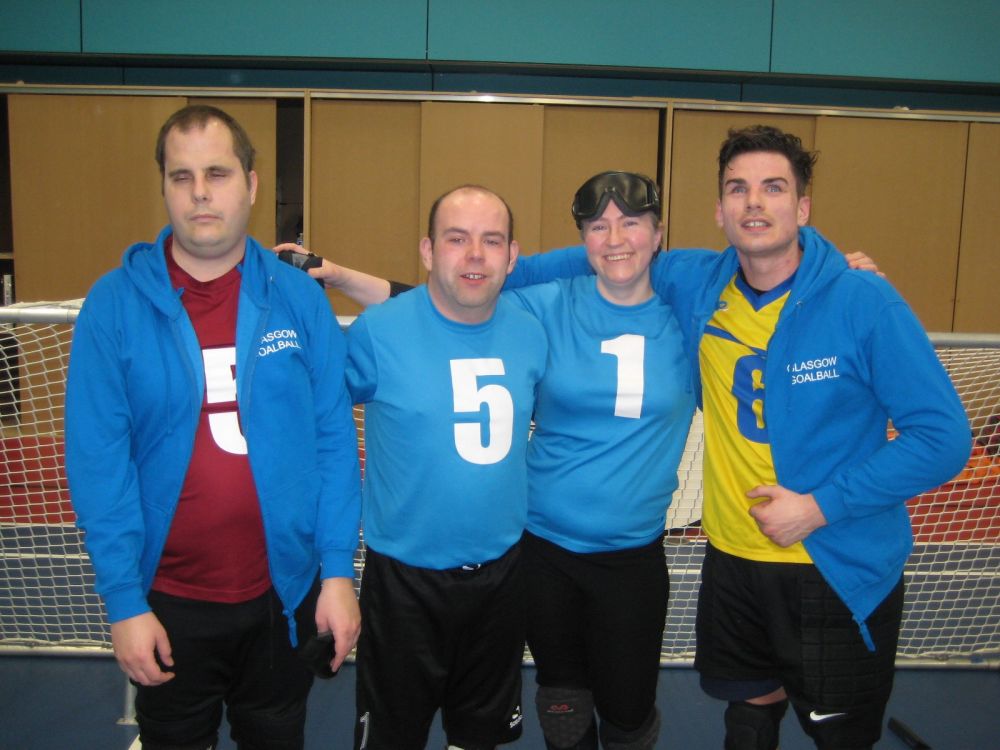 Christmas Night Out - 22nd December 2018
A wonderful night out in NYC on Hope Street on the 22nd of December was organised by Paul. Just a few minutes walk from Glasgow Central train station. We had many happy hours with table service and refreshments. No one could forget the wee man teddy bear complete in Glasgow goalball kit presented to Andrea with audio recordings from all of us wishing her a very happy birthday!!! If table dancing is a sport the wee man topped it.
Home Nations Tournament - York St John's University on the 8th & 9th of September 2018
Official group photo after the event from left to right showing England, Northern Ireland, Scotland, and Wales.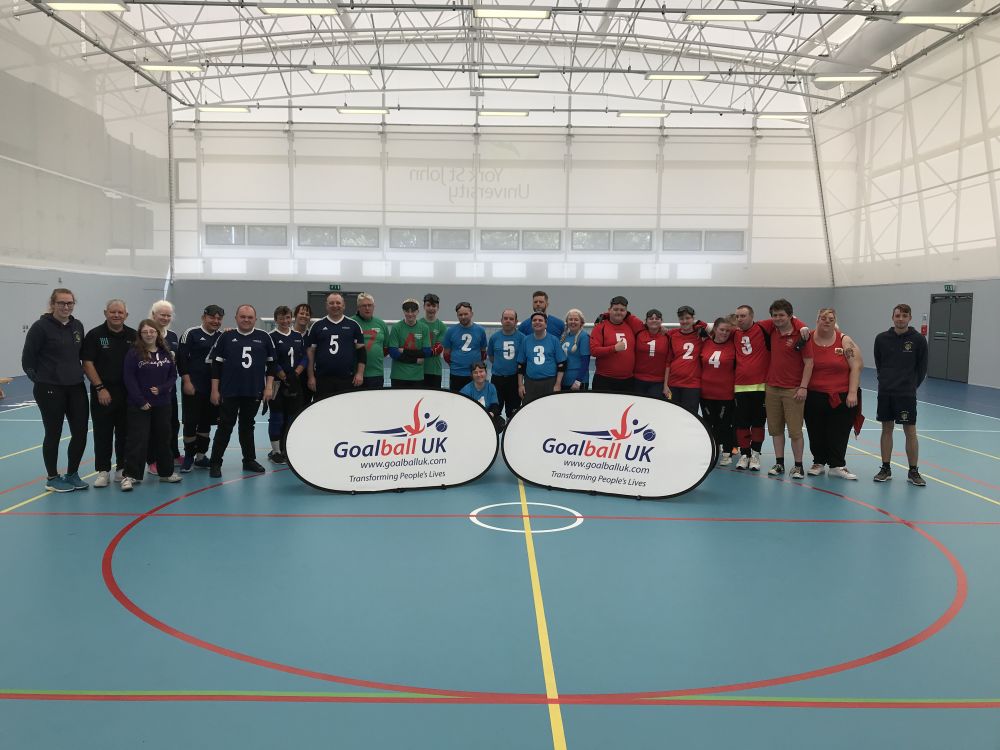 Home Nations Tournament - York St John's University on the 8th & 9th of September 2018
Mark, Paul, Graeme, Alan, Andrea, and Lorna are shown with medals from Goalball UK. Wonderful day at the Goalball Home Nations with many amazing folk.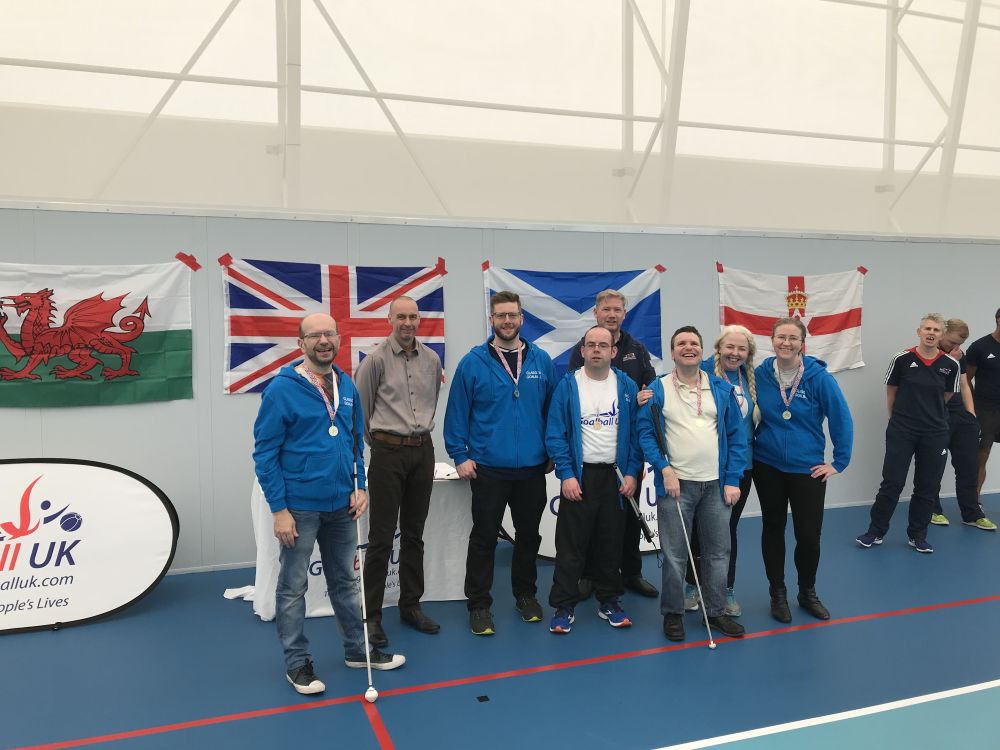 Home Nations Tournament - York St John's University on the 8th & 9th of September 2018
Glasgow Goalball are all smiles representing Scotland shown in the following photo from right to left Mark, Graeme, Andrea, Alan, Paul and Lorna. Graeme, Andrea and Alan are holding the St Andrew's Cross flag just before the Home Nations event began.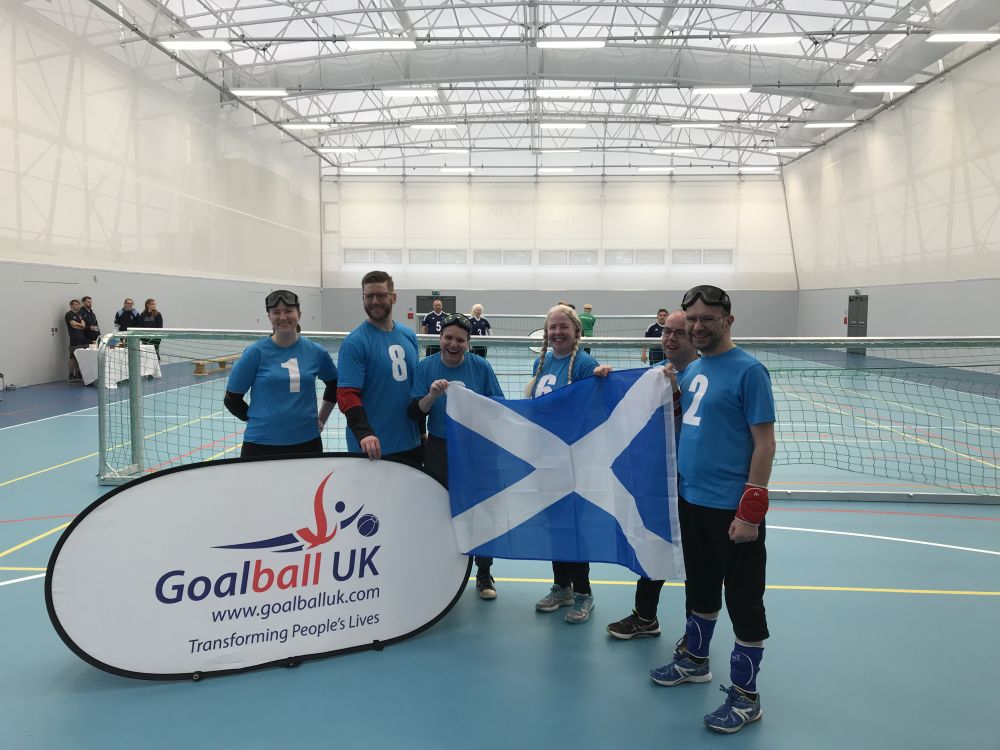 Home Nations Tournament - York St John's University
08 September 2018 – 09 September 2018

Our first Home Nations event pitted goalball teams from England, Northern Ireland, Scotland, and Wales against each other.

Over two days each team played three games per day. We won all our games except one and came in second to a strong English team on goal difference. Wales were generally wonderful on and off court. And it was a brilliant introduction to the newly formed team from Northern Ireland!

Our team was made up of 6 players Alan, Andrea, Graeme, Mark, Paul and Lorna. Throughout the weekend's play all team members were given court time to ensure they experience competitive goalball games. Especially well done to Paul for playing his first tournament in center position. Also well done to Alan as he competed in his first competitive tournament. Mark and Andrea provided coaching and encouragement from the bench which spurred us on.

Many thanks to Goalball UK for organising and supporting this event. Special thanks to Kathryn Fielding for having boundless energy and motivation and tirelessly driving all over the UK to make this happen.

On the Saturday night Kathryn 'challenged Scotland to eat anything?'. Anchovies, gherkins, and olives didn't quite mask the chocolate bounty that has some after taste! Obviously, this statement is made by the winners of the lighthearted event!

We had a blast! Ate great pizza and a few stranger things, drank a bit, and sang a bit. Great people, great laugh, great time! Can't wait for the next one!

For more information see the link below to the news article on the Goalball Uk website.

http://www.goalballuk.com/home-nations-tournament/